One Leaf #1
Glory Fades - Love, Expulsion, Revolution ep

Fast, melodic hardcore, distinct from its contemporaries.
It should be noted that there are no songs actually about killing vampires.
Listen to the song Keep It In The Dojo off the 7", or listen to/download the demo tracks here.
Three dollars ppd.

GLORY FADES were:
Chris Strunk - drums
Eric Yu - guitar
Ken Ramsey - vocals
Terry Cuozzo - bass
July 2001 - March 2002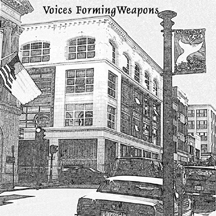 One Leaf #2
Voices Forming Weapons - Welcome to New Bedford lp
Here it is, after almost two years of sitting on dusty shelves, the lp that combines the Voices Forming Weapons demo and 8 unreleased songs.
Originally, the 8 unreleased songs and three others were to be re-recorded for an lp on Ape Must Not Kill Ape.
A band either a bit ahead of its time or woefully behind, Voices Forming Weapons played like a mix of Swiz, Dag Nasty, and Verbal Assault, all my favorite aspects from the mid 80's DC sound. Unfortunately, often mistaken for a screamo band, I still have no idea what was up with that.
Listen to the song Soul Choir from the lp.
Six dollars ppd.

VOICES FORMING WEAPONS were:
Adam Gonsalves - bass and vocals
Eric Yu - guitar
George Radford - guitar
Kevin Camille - drums
Martin Johnson - vocals
January 2000 - April 2001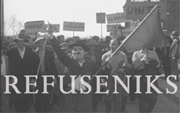 One Leaf #3
The Refuseniks - Refuse! demo

After a year of shuffling members, the three remaining state-side members of Glory Fades have a new band, with a more aggressive and less straight forward sound.
Recorded at WERS for the Radio Beat program with Nicole "Chomper" and engineered by Alex Hartman.
And no, that is not Hitler on the cover.
Listen to the song Nosebleeds from the demo.

THE REFUSENIKS were:
Chris Minicucci - guitar
Chris Strunk - drums
Eric Yu - guitar
Ross Noyes - vocals
Terry Cuozzo - bass




One Leaf #4
R'N'R - Thank You ep

R'N'R's Thank You letter from Joe Hawk to everyone who came to the benefit show in February 2003, to help pay for surgery on his hand, which he sliced up falling through a store window. Oh yeah, the letter comes with a one-sided 7".
The record features two cover songs; Dag Nasty's Circles and Judas Priest's Breakin' the Law (with Joe Hawk on vocals).
This record is not for sale, and was available free of charge for people who came to the benefit show.

R'N'R was:
Aaron Shumsky - Bass
Eric Yu - guitar
Joe Silvia - guitar
Joe Shumsky - vocals
Justin De Tore - drums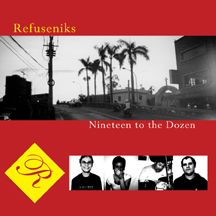 One Leaf #5
Refuseniks - Nineteen to the Dozen 12"

I'm not sure exactly what to say about this record beyond that I'm supremely proud of it, despite my awful cover design.

Listen to Held Hostage, the lead off track of the 12".
Six dollars ppd.

REFUSENIKS was:
Chris Strunk - drums
Eric Yu - guitar
Ross Noyes - vocals
Terry Cuozzo - bass
(Aloha, Cooch!)
Early 2003 - March 2005

Listen to the song Circle the Drain from the demo.
Two dollars ppd.

Even Keel was:
Andrew Jackmuah - vocals
Eric Yu - guitar
Greg Dunn - drums
Luke DeDeus - bass
2007

Also available:
Glory Fades T-shirts
Front: Glory Fades...
Back: ...We Remain
Gold writing on black - M, L and XL.
Seven dollars ppd.


Home | One Leaf | Releases | Bands | Benefit Show Record | Links